The Joaquin Phoenix starring 'Joker' is pretty much all over the internet now, and everyone seems to have their own opinion about it. Some people thought it was a masterpiece, some feared it might encourage violence, and others didn't think it measured up. But no one can deny this film managed to get everybody's attention.
However, there are hidden meaning not even the biggest Joker fans know. Here's what it all meant and everything that went on behind the scenes – from everything Joaquin Phoenix had to endure to play the role, to that confusing ending.
Warning: This article may contain spoilers.
The opening sequence
One of the most devastating scenes in the movie comes in the very beginning of it – when Arthur is beaten down by the teenagers who stole his clown sign. The scene itself was carefully constructed.
Phillips intentionally filmed it from a rooftop angle, to make it look like something straight out of a graphic novel. It just goes to show how much thought was given into every shot and every take of this film, and the result is beautiful.
Putting on a happy face
Some people may have not noticed this small but important detail about the opening scene. After Arthur is cruelly beaten, he's left on the floor in his clown costume, writhing. He's clearly shaken up and in pain, but he does one thing – he reaches for a button and triggers water to squirt out of the trick flower in his suit.
According to the director, this goes to show Arthur is trying to see the humor in this painful situation – like putting on a happy face, as his mother always told him.
Arthur's run
Another thing that's particularly unique about Arthur is the way he runs. In the opening sequence, where he runs after some teens who stole his sign, you can see his very distinct way of running – one that was referred to on set as "Arthur's run".
Phillips also had to figure out, along with wardrobe, what exact size of clown shoes would allow Arthur to run naturally, but still appear very clownish – something that Phoenix completely aced in his performance.
The Joker that almost wasn't
It seems like no other actor in the world could pull off this particular Joker quite as well as Joaquin Phoenix – perhaps because the script was written with him in mind. His performance received accolades from both critics and viewers alike, but it turns out the actor was reluctant to take on the part at first.
He wasn't really keen on getting involved in the superhero genre, but felt this particular film was something completely different. "I felt overwhelmed and terrified by it," he explained. "Usually when I'm scared of something, it makes me feel like I have to go towards it."
He auditioned for the laughter
The Joker's laughter is probably the most iconic and important things about the character, and Joaquin was fully aware of that fact when he prepared for the film. In the movie, Arthur has a pathological laughing disorder (at least, that's what he claims), which mostly affects him in situations where he's under extreme stress or perceives himself to be under threat.
Joaquin actually watched videos of people with the disorder, in order to be able to successfully deliver that pained kind of laughter. Not only that, but he also insisted on auditioning his laughter in front of director Todd Phillips – even though he already had the part – just to make sure he had the laughter down.
Encouraging violence?
Some people thought since the movie seemed to be "blaming" society for Arthur becoming the Joker, it might instigate violence among some viewers. In an interview with The Telegraph, Joaquin was asked whether he was worried it would inspire the very people the film is about.
The question took him by surprise, as he responded, "Why? Why would you…? No, no." And proceeded to walk out of the interview for an hour before coming back. "This is not the thing the film is trying to represent," Todd Phillips said. The simple answer is, film doesn't justify or glorify the violence in any way – it just gives us a different perspective on things.
Criticizing society
Todd Phillips said he believes movies are often mirrors of our society. So even though the film takes place in the early '80s, since it was written in 2017 some themes naturally found their way in. "It just depends on the lens through which you view it," he said in one interview. Anyone who's watched Joker can see how society constantly beats down Arthur, sometimes quite literally.
In his words, "What do you get when you cross a mentally ill loner with a society who abandons him and treats him like trash?" Arthur keeps fighting to be seen, to feel he has an actual impact on society – eventually turning to violence. Joker asks us to consider our own roles in what happens to these individuals.
A hidden criticism
It's no secret that Joker is filled with fierce criticism on today's society, and our tendency to cast out people who don't fit into the norm. But another underlying criticism some people failed to notice, was the attitude towards women.
The comedy sketches performed by the other comedians all seem to be demeaning towards women, and the guys on the train are clearly intimidating a woman who has no wait out of the situation. It may be set in the 1980s, but it sure makes interesting points about today's society.
Paparazzi were everywhere
Joker was one of the most anticipated films of the year, and it was definitely felt by everyone on set. In fact, director Todd Phillips got really annoyed by paparazzi photographers who were trying to get pictures from the set at any cost.
They were taking pictures from as far away as they could get them, resulting in a bunch of grainy pictures that were released online. He was so irked about it, he decided to release several high-quality promotional pictures from the movie himself.
Phoenix and De Niro barely spoke
The phenomenal Robert De Niro played famous talk-show host Murray Franklin in the movie. And while Phoenix said he was one of his favorite actors, the two hardly spoke on set. His character and my character, we didn't need to talk about anything," Joaquin said.
In fact, it's said that there was tension between them, as De Niro insisted on everyone doing a read-through before shooting scenes, and Phoenix didn't want to have read-throughs at all, thinking it would hurt the process. Eventually, De Niro said both Phoenix and Phillips were "terrific" to work with.
A painful comparison
It's understandable why actors could be intimidated by the amazing performances done in the past. Heath Ledger in particular won an Academy Award for his role of the Joker in The Dark Knight, and since it's such a tough act to follow – the comparisons between the two actors soon flooded in.
Some people were surprised to learn that Joaquin was actually very good friends with the late Ledger while he was still alive, which took an even bigger emotional toll on the actor in assuming the iconic role.
The script kept changing
The filming process for this movie was different than most – as the script for Joker constantly changed as they went along. Actress Zazie Beetz, who plays Arthur's neighnor, recalled: "Literally, we would go into Todd's trailer and write the scene for the night and then do it."
She continued, "During hair and makeup we'd memorize those lines and then do them." This hectic process actually allowed the actors to insert their own thoughts and opinions about their characters into Phillips' vision for the movie.
He wanted to gain weight
It's very apparent that Joaquin had to lose a lot of weight to play Arthur, who appears to be underweight. The actor actually studied the affects of psychiatric medication Arthur was taking, and found that many people either lost of gained a lot of weight.
He initially wanted to gain weight for the part – as that would've been much easier for him – but Phillips decided to go with the weight loss option. Joaquin had previously done it for another role (2012's The Master) and swore he'd never go through it again. "In all honesty, I didn't want to do it again," he said in an interview. But he eventually decided it was important for the character, and shed 52 pounds for it.
Becoming the Joker
At first, Joaquin wasn't sure how to approach the role. Phillips gave him a journal to write thoughts and jokes in (Arthur's journal from the movie). "I didn't know what to write, so I asked [Phillips] for some suggestions," he said in an interview.
But after a few days of doing this, he began ignoring these suggestions and "suddenly it was coming out." The two talked about the movie for six months before shooting the film, which helped Phoenix build the character over time, and fill out that journal.
No laughing matter
If you've seen the movie, you probably recognized more than one kind of laughter. In fact, there were at least three different laughs Joaquin used for the character. There was the affliction laugh, which Phoenix imagined to be almost painful. There's the laughter at the end of the movie, when Arthur is most himself and might be finally experiencing joy.
And then there's the "one of the guys" laughter, which Arthur fakes when he thinks it's appropriate to laugh – suggesting that his dissociative state makes him misread social situations, while he's desperately trying to be accepted by society.
The costume changed him
One more thing that really helped get Joaquin into character is the same as it is for many other actors – the costume. Once he put on the makeup and donned the unique costume created for his particular Joker, he felt a lot more like the character.
The color palette seems to be inspired by the infamous John Wayne Gacy – the serial killer who dressed up as a clown for parties – mixed with some older Joker versions. It was also purposefully made to look "antique", which fits the mood of the film.
Stuck in childhood
Apparently, one thing that was clear to Phoenix about Arthur is that he suffers from some form of PTSD due to his childhood. As a child, he was abused by his mother's partner, while she failed to protect him as she was suffering from her own mental illness.
That's why he sees danger everywhere, and sometimes it seems he's emotionally stuck in childhood. This causes his gestures, and even his voice, to appear childish sometimes – like when he fantasizes about going on the Murray Franklin show and imagines him acting as a father figure to him.
He didn't go crazy
Other actors who played the Joker, or other similarly intense roles, were said to have gone in a little too deep into the character – even as far as assuming it in between takes. It was rumored that Jared Leto had terrified a bunch of crew members on the set of 'The Suicide Squad', giving them creepy gifts.
And while Joaquin admitted he didn't feel like he was going "crazy" or losing his mind over the role, it was losing all those pounds so quickly that had some psychological affects on him.
The confusing ending
The ending the movie managed to confuse a lot of its viewers. However, there's a theory that could possibly explain the joke he was laughing at while talking to the therapist in the Arkham asylum. The theory says the final scene is a flash-forward.
Before mastering his escape from Arkham, Arthur remembers how young Bruce Wayne had lost both his parents, and thinks of a funny joke that only he would understand. Bruce Wayne would grow up to become Batman due to his parents being killed at such a young age – he would later become the Joker's biggest nemesis. So essentially, he invented Batman, his own greatest enemy.
Fantasy vs. reality
The whole movie relies on the unreliable narrator. Arthur himself isn't sure what's real and what isn't, so we can't really trust anything that goes on – because it might be Arthur's fantasy. At first, he tells his social worker he didn't know if he was real.
Later on, we learn that his fling with his single mom neighbor, Sophie, is actually imagined by him, and never happened in real life. So who knows what other details we can't trust? Maybe the whole thing was imagined by Arthur while he was staying in the Arkham mental facility?
The Killing Joke
In the graphic novel Batman: The Killing Joke, on which the Joker is based on, the titular character says a pretty interesting line – "If I'm going to have a past, I prefer it to be multiple choice." The line echoes with something Phoenix himself said about the film – that it's best to look at the movie as a series of suggestions rather than simply a narrative.
This might serve as further evidence that the whole thing was actually made up by Arthur. This theory says the whole movie might be the joke he refers to in that final scene.
'You wouldn't get it'
This theory goes even further than that, as to say this man in Arkham asylum may even not be the Joker – but someone who triggered the chain of events leading to the creation of the Joker, or someone who made it all up in his head.
Arthur's last line in the movie is "you wouldn't get it" – and this seems to also refer to us, the audience. We can't really know if anything is real or not, and like Phillips says, there are "a lot of ways you could look at this movie."
The extras were mistreated
It seems that not everything went smoothly on set. TMZ reported that during filming in a Brooklyn subway station, some extras were actually locked inside a subway car for long hours, and were denied bathroom breaks as they should've legally gotten.
The extras reportedly got pretty irritated and started banging on the windows, finally resorting to relieving themselves on the train tracks between the cars. After getting complaints about this incident, SAG actually sent someone to oversee everything was going well on Phillips' set.
Joaquin took stunts too far
Phoenix didn't do all if own stunts in the film, but he definitely did some pretty extreme stuff while filming. While actors in their 20s don't always perform their own stunts, 45-year-old Joaquin was filmed in action by paparazzi while doing a pretty intense stunt.
He was fully dressed as the Joker and running from the police in the streets of Gotham (well, New York City), as he threw himself over the hood of a taxi as if he was struck by it. In fact, he threw himself so hard, he rolled onto the roof of the cab. And we thought his acting was impressive when he wasn't running!
He stopped breathing
One of the more interesting acting methods Phoenix used while playing the joker was actually holding his breath. In some scenes where he wanted to create extra tension, he didn't breath – something that added to his performance.
He did this during the scene where the social worker tells Arthur he won't be able to receive counseling or his medication anymore, as well as the scene where he suffocates his mother in the hospital with a pillow.
A different kind of movie
Superhero movies have certainly been on the rise in the past decade – especially with the explosive success of Marvel's Cinematic Universe, and DC following that same path. But when Todd Phillips came up with the idea of the Joker film, he imagined something entirely different than what we're used to seeing from the genre.
He wanted it to be an in-depth character study, that focuses on the wonderfully complex character of Arthur Fleck – a failing comedian facing mental illness who's repeatedly pushed aside by society, resulting in the villain we all know and love.
A surprising director
Todd Phillips is essentially the brilliant mind behind the film, but many people wouldn't consider him as the obvious choice to direct it. He's responsible for some classic comedy hits like Due Date, and The Hangover Trilogy, and 2004's Starsky & Hutch.
Not only is he used to a whole other genre, but he was also more used to working with an ensemble than one lead actor. But he still managed to go deeper and darker into the character than any other past attempt.
Room to improvise
Some filmmakers like having everyone stick to the script, others allow a little room for improvising. But director Todd Phillips said he believed it would be a mistake to get an actor like Joaquin Phoenix to sign on, then tell him exactly where to stand and what to say.
Instead, he allowed him to explore the set and do what felt most natural for the character – resulting in some pretty iconic improvised sequences, like the one where Arthur does his bathroom dance.
He has music in him
Throughout the movie, we can see Arthur dancing on several occasions, mostly to himself. Todd Phillips had said Arthur has "music in him" – and it comes into play when he's experiencing small moments of joy (even though he claims he hasn't had a happy moment in his life).
While Joaquin worked with a choreographer on the stairs dance, as well as the bathroom dance, there were also improvisations on his part once he heard the score playing – he just went along with the movements that felt most natural for the character. One theory says Arthur is trying to make himself bigger with these dance movements, like what he perceives a real man should be like.
The score was pre-recorded
Traditionally, movie scores are only composed after the movie is shot, so the composer can get inspired by the movie itself. However, Joker was one of those rare occasions where the music was composed (by the talented Hildur Guðnadóttir) based on the script alone, before shooting.
Phillips often played the score while shooting scenes, which largely affected the acting and the overall tone of the movie. He played it during the opening scene, where Arthur sits in front of the mirror and forces himself to smile – and Joaquin's tear just came out naturally.
Iconic stairs
The scene where Arthur dances on the stairs is the moment of elation in the film – where he embraces himself and fully transforms into the joker. This scene has already become somewhat iconic, and many people want to be a part of that.
This is probably the reason why the filming location – the stairs situated in Brooklyn – is now flooded with tourists and visitors who are mostly in it for the photo op. Everyone wants to get their picture taken on the stairs, dancing like Joker.
The stair dance became a meme
Another sign of the stairs scene is becoming iconic, is the fact that it's already a meme. Some fans apparently thought Gary Glitter's Rock and Roll Part 2 wasn't the best song for the Joker's epic dance. Some said it's out of sync with the movements, and others implied it's downright ridiculous.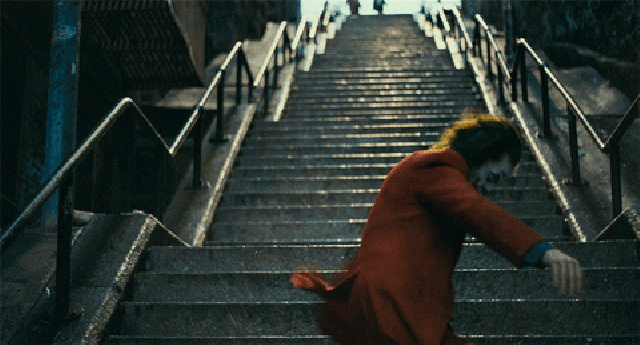 While we think it was pretty perfect, others felt the need to create a meme of the dancing video with different songs playing – which became a hilarious meme that's pretty much everywhere.
His own version of the Joker
The Joker was indeed played by some great actors, who pulled off wonderful and very different performances. Joaquin said he didn't want to base his performance on any past interpretations of the character.
"The attraction to make this film and this character was that we were going to approach it in our own way," he explained. It was probably for the best – and not just because Jared Leto's take on the Joker was pretty much hated by fans of the genre. But also because his performance ended being so epic and revered by the viewers, he might just win an Academy Award for it.
An April Fool's joke
There were many speculations about the film before it came out – as any highly anticipated movie gets. But things got pretty messy when an April Fool's joke suggested the movie is a prequel to Christopher Nolan's Dark Knight movies.
Screen Rant released a fake synopsis of the film that began with "20 years before Batman saved the city in The Dark Knight trilogy," and it the story spread uncontrollably from then on. Several sites are still claiming the movie is a prequel to the trilogy, even though it was never meant to be that.
It got standing ovation
Joker was so well received at the Venice Film Festival, it actually got an eight-minute standing ovation from the audience. People seemed to be raving about the movie when it was first released, and it got some incredible reviews, further building up the hype.
It even managed to crack IMDB's top 10 highest-rated movies of all time list (after which he dropped a few places), and has now become the highest earning R-rated movie ever, surpassing movies like Deadpool. But not everyone was a fan of the film.
Some people hated it
With all the hype surrounding the film, it was bound to start getting some bad reviews from critics who couldn't see the big fuss about Joker. So while most critics were calling it "a masterpiece," others stated it was filled with exaggerated acting on Phoenix's side, and the script was lacking in plot.
The New York Times actually referred to it as "a story about nothing," saying it's "not interesting enough to argue about." Say what they will, but the fact is – if people can't stop talking about it, there must be something great about it.
The biggest influences
The film is set in the early '80s, which is completely deliberate, as Phillips wanted to avoid any DC Universe timeline issues. You can also sense Joker was heavily influenced by films like Taxi Driver and The King of Comedy.
That's also why it was such a brilliant move to cast Robert De Niro as Murray Franklin, a talk-show host similar to Jerry Lewis's role in The King of Comedy. In the film, it was De Niro who played the crazed stalker, and now the roles were reversed.
Gotham is a character in the film
"Is it just me, or is it getting crazier out there?" Arthur says to his assigned social worker in one scene. Gotham is the famously grim, crime-filled city where the Batman comics take place in. So it only makes sense that Phillips saw the city as literally one of the living, breathing characters of the film.
The rise in random violence, and the gradually increasing loss of faith in the people who run the city, are both catalysts in Arthur's transition into the Joker – and how he eventually gains his followers.
Those who dropped out
Casting changes happen all the time in Hollywood, and Joker had quite a few of those. Many people were surprised to learn Martin Scorsese signed on to steer the project as co-producer, but the esteemed director dropped out in July 2018 due to prior commitments.
Alec Baldwin was also supposed to be part of the film, as he was cast in the role of Thomas Wayne, Bruce's father. After abruptly pulling out of the film a couple of days after his part in it was announced, he said, "I'm sure there are 25 guys who can play that part." The role eventually went to True Detective's Brett Cullen.
Will we see more of this Joker?
DC might be in a tricky situation now when it comes to future films featuring the Joker. Jared Leto's 'Suicide Squad' Joker was probably the most unpopular yet. His performance was deemed "all over the place" by fans (and that's gently speaking) – which is probably why he won't be returning to the sequel, 'The Suicide Squad'.
So will Joaquin be playing the Joker in the upcoming 'The Batman' starring Robert Pattinson? It seems unlikely, but we'll just have to wait and see. As for audiences' hopes for a Joker sequel – while Phillips admitted they did toss around ideas, he made it clear that was not the plan.